Tijdens de derde dag van Control Conference gaf Nick Fortugno een presentatie over hoe interactiviteit en game design in games kan leiden tot gedragsverandering. Deze presentatie werd mede mogelijk gemaakt door Growing Games.
Nick Fortugno is een game designer en is co-founder van het bedrijf Playmatics. De afgelopen 15 jaar is hij druk bezig geweest met het designen van games. Serious games, world games, Facebookgames, mobile games, hij heeft het allemaal gedaan. Fortugno's doel is om applied games te maken op het gebied van zorg en onderwijs. Hij begon te werken bij het bedrijf Game Lab, wat werd gezien als het eerste innovatieve gamebedrijf, omdat ze een zeer specifieke content creëerde m.b.t. onderwijs.
Game als medium
Bij het creëren van een serious game moet er goed worden nagedacht over verschillende onderwerpen. Welk doel wil je behalen? Welke technieken kan je gebruiken om dit te realiseren? Als gamedesigner moet je veel samenwerken met andere bedrijven en specialisten. Welke methodologie moet er toegepast worden om gedragsverandering te realiseren d.m.v. het spelen van een game? Hoe communiceren games? Hoe communiceren games een boodschap die mensen aan zich binden?
Het kernidee is dat de game fungeert als medium, niet alleen als vorm van entertainment. Game is in deze opvatting vergelijkbaar met film, literatuur en muziek. Wat zijn de technieken van de game als medium? Hoe communiceren media? Hoe kan een game iemand iets laten voelen of laten leren? Om deze gedachtegang verder uit te breiden haalt Nick Fortugno een artikel aan van Hunicke, LeBlanc en Zubak genaamd "MDA: A Formal Approach to Game Design and Game Research".
Het artikel omvat het MDA framework (Mechanics, Dynamics, en Aesthetics). MDA is een benadering om games te begrijpen. Het artikel is geschreven rond 2005, wat redelijk vroeg is in gamegeschiedenis. Toentertijd was er nog geen jargon over games en hoe we games kunnen begrijpen als medium.
De Mechanics bestaan uit de regels van het spel. Als voorbeeld noemt Fortugno het populaire computerspel Starcraft. Digitaal zijn de regels verwerkt in een code. Deze regels leiden er toe dat de gebruiker beperkt is in de keuzes die hij wil maken. De regels creëren de hoeveelheid engagement van de speler. Door deze regels worden er patterns of behaviour gestimuleerd die het gedrag aansturen: dit valt onder Dynamics. Wanneer iemand Starcraft speelt, moet hij strategisch nadenken om via de gegeven regels alsnog het spel te winnen. Door de jaren heen zijn er verschillende winnende strategieën ontstaan die op hun tijd zijn geëvolueerd. De manier waarop een gebruiker handelt, beïnvloedt zijn gedrag. Door het gedrag van mensen te veranderen, verander je ook de gevoelens van de mensen: Aesthetics. Deze gevoelens kunnen emoties, thema's en verhalen reflecteren. Dit noemt Fortugno de Aesthetics of Interactivity. De Mechanics leiden tot Dynamics die leiden naar Aesthetics.
Designers creëren regels. Regels creëren play behaviour. Play behaviour creëert ervaring.
Hoe is dit te herleiden naar applied games? Als het doel van een applied game is om iets te leren of gedrag te veranderen, dan is dat het aesthetic. Games moeten 'fun' zijn, maar het is lastig om een les fun te maken. De kern is dat je iets wil leren: "The key to doing this effectively is to embody the message in the play behavior."
Embodiment
De term die Nick Fortugno gebruikt is 'Embodiment'. Hij wil dat de gebruiker elk moment van het spel nadenkt over de content. De gebruiker kan niet spelen zonder zich te richten op de content. De gebruiker embodied the message. Maar niet alle onderdelen van de game zijn direct te herleiden tot de content.
Fortugno haalt zijn zelfgemaakte game aan "Ayiti: The Cost of Life". Ayiti was een serious game, alleen zo werd het niet ervaren. Ten eerste was het de eerste serious game dat gezien werd als een entertainment game. Ten tweede was dit spel gecreëerd om gespeeld te worden door 16-jarige middelbare scholieren. Het spel kwam online en werd getipt aan enkele docenten. De speler van het spel moet een familie in Haïti besturen. Het idee is dat je een gezin onderhoudt in gezondheid, educatie en welvaart. De familie moet gezond blijven. Het doel van het spel is om mensen te laten begrijpen wat de kansen op educatie zijn in de Derde Wereld. In Haïti zijn de scholen slecht, tenzij je er veel geld voor betaalt. Veel mensen hebben het geld daar niet voor en zelfs met een werkloon is educatie vrijwel onbetaalbaar. Het gratis onderwijs is dramatisch slecht, waardoor de oudere kinderen sneller uit school gehaald worden om te werken. Dit staat in contrast met het scholensysteem in de Verenigde Staten, aangezien kinderen daar wel altijd naar school kunnen. De eerste keer toen de scholieren dit spel speelden, vervulden ze de traditionele Westerse rollen in het spel waarbij de ouders werkten en de kinderen naar school gingen. Zo kon je het spel alleen niet winnen. Dus uiteindelijk haalden ze de kinderen uit school om ze te laten werken. Uiteindelijk kregen de scholieren de spelwijze door, waardoor ze het spel konden halen. Wat ze niet wisten is dat ze de leefwijze van Haïti reproduceerden. Dit deden ze niet omdat wij het hen leerden, maar zij deden het zelf omdat ze dezelfde faciliteiten hadden als de bevolking op Haïti.
In het spel bevindt zich een winkel waar je veel dingen kan kopen die het leven kunnen verbeteren. Er is ook een nieuw huis te kopen de winkel. Alleen heeft Fortugno het spel zo gemaakt dat de speler nooit genoeg geld kan krijgen om zich het nieuwe huis te veroorloven. Hierdoor worden de spelers geconfronteerd met armoede. Door deze onmogelijke mogelijkheid in het spel te verwerken, voelen de spelers hoe het is om arm te zijn.
Als afsluiter geeft Nick Fortugno nog enkele tips aan de game designers in het publiek: "Game design for serious games is still game design. The game works if it's fun to play, but since play is the central method by which users engage with games, when your game is for a serious purpose, the purpose has to be embodied in the play."
Nick Fortugno Workshop
Na zijn presentatie op de Applied Games Summit gaf Nick Fortugno een workshop over hoe gameplay en interactiviteit gebruikt kunnen worden om gedragsverandering te realiseren. Hij gaat verder in op de MDA (Mechanics, dynamics, aesthetics) wat hij al behandelde in zijn presentatie. De wereld van serious games verschilt erg met de wereld van entertainment games. Bij het creëren van serious games komt de game designer in contact met allerlei andere beroepsuitoefeningen die veel verstand hebben van hun specialisatie, maar minder van gamedesign. Door de geschiedenis heen heeft de samenleving geleerd dat games het goed doen bij mensen. Wanneer dit te combineren valt met serieuze onderwerpen waar mensen wat van leren dan is dat goed.
De eerste stap bij het ontwikkelen van een serious game is het doel dat je wilt bereiken. Als voorbeeld noemt Fortugno een anti-rokersapp. Waar over nagedacht moet worden is niet alleen de inhoud van het spel, maar ook hoe het spel wordt gespeeld. Een anti-rokersapp werkt alleen als de speler niet kan roken tijdens het spelen, dus de app moet met twee handen gespeeld kunnen worden. Ook is het de bedoeling dat de app wordt gebruikt wanneer de speler wil roken. Het spel moet actief zijn, zodat de speler niet na kan denken over roken. En de app moet het hele onderwerp van roken niet noemen, want juist dan gaat de speler denken over roken.
Werkwijze
Veel bedrijven durven niet te experimenteren met de game die ze laten ontwikkelen. Fortugno geeft aan dat het te maken heeft met een andere mentaliteit om processen te voltooien. Game designers bedenken vooraf een idee, werken het gelijk uit, en kijken dan of het werkt of niet. Andere bedrijven bedenken van te voren ook een idee, maar zij gaan er veel langer op door om het perfecte pre-plan op te stellen om het daarna gelijk uit te voeren en dan eventueel kort aan te passen. Door dit verschil van perceptie wordt het lastiger om games te perfectioneren, omdat er minder ruimte is om fouten te maken.
Fortugno haalt zijn eigen game Ayiti: The Cost of Life aan en vertelt hoe de kinderen door middel van failure juist succes boeken. De kinderen spelen het spel en de kans is erg groot dat ze het in eerste instantie niet voltooien. Wanneer ze het wel eindelijk hebben gehaald, kunnen ze naderhand hun ervaringen delen met de andere kinderen, waardoor er een collectief leerproces ontstaat, wat efficiënter is dan een traditioneel individueel leerproces. Alleen moet de game designer wel voorzichtig zijn met de impact die de game kan maken, want 'play comes when we feel free to explore'.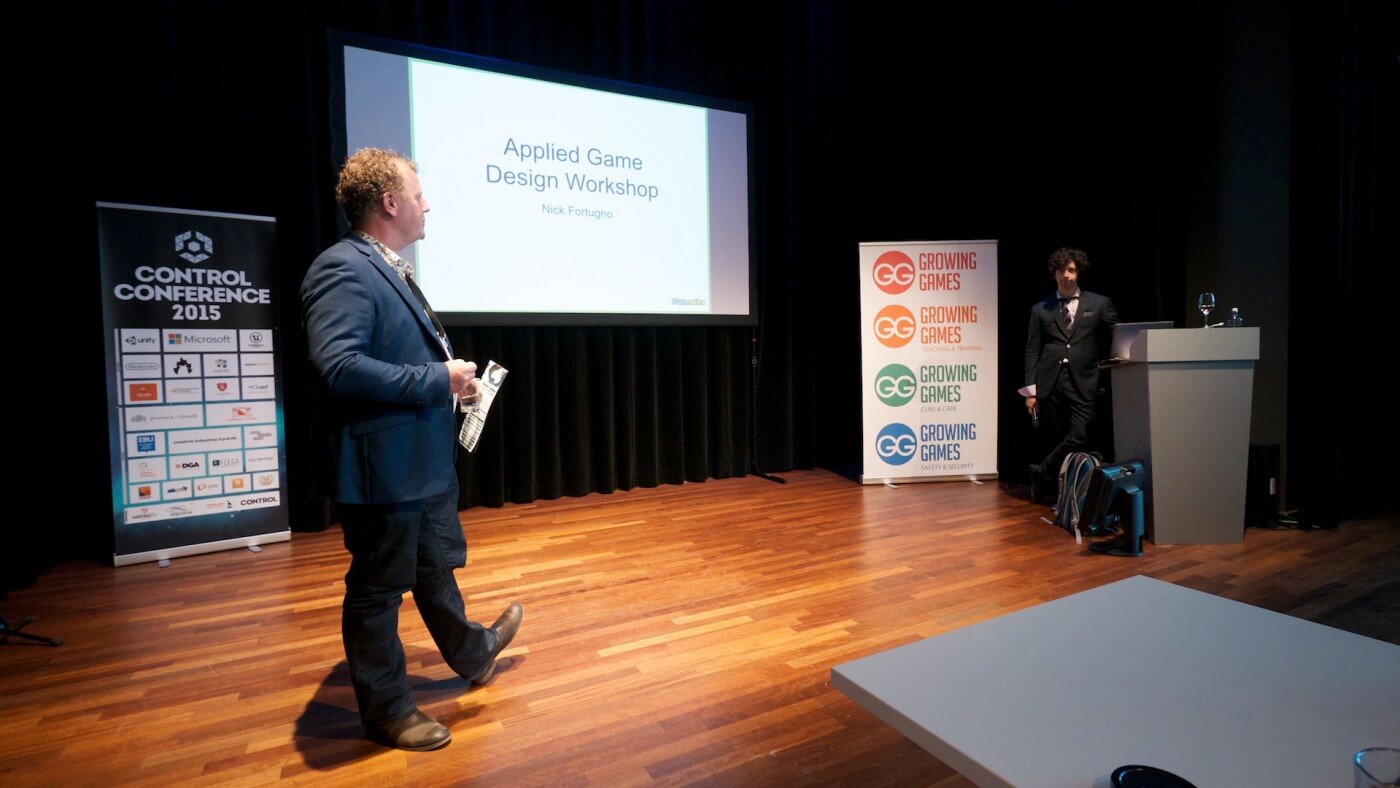 Q20
Door de workshop wat interactiever te maken en om aan te tonen hoe MDA werkt stelt Nick Fortugno voor ons een spel te laten spelen In groepen van 5 moesten we het traditionele spel Q20 spelen. Het doel was om te kijken naar hoe het spel ons liet voelen. De groep kiest een 'judge'. Deze judge kiest een zelfstandig naamwoord (plaats, persoon of object). De rest van de groep mag 20 ja/nee vragen stellen aan de judge in onbepaalde tijd. Het doel is om erachter te komen welk woord de judge in gedachten heeft. Kort na dit spel vroeg Fortugno hoe we ons opstelden. Daar kwam uit dat elke groep werkte als een team en veel had overlegd voordat ze een vraag stelden aan de judge. Kort hierna speelden we hetzelfde spel, alleen vond er een kleine verandering in de regels plaats. De hoeveelheid vragen veranderde van 20 naar oneindig, maar de onbepaalde tijd werd terug gebracht tot maar liefst 90 seconden. Tijdens deze tweede ronde speelde teams meer individueel en werd er weinig tot niet overlegd. Ook in de lichaamshoudingen werd een grote verandering gezien. De teamleden zaten nu allemaal gericht naar de judge. De reden waarom Nick Fortugno dit experiment met ons wilde doen is dat hij wilde demonstreren hoe je aesthetic genereert vanuit regels.
Werken aan serious games is het moeilijkste wat er is in de game design wereld, aangezien ze 'unfun things fun' moeten maken. "We have to find the fun in everything". Het beste voorbeeld van een serious game vindt Nick Fortugno de Pokémon-games, aangezien alle Pokémongevechten gevuld zijn met algebra en wiskunde. En het eigenaardige is dat de kinderen zelf niet doorhebben dat ze met rekenen bezig zijn.
Als afsluiting behandelt Fortugno het onderwerp van applied games. Vooral bij lichamelijk herstellen kunnen applied games bijzonder goed helpen. De games kunnen er helaas niet voor zorgen dat het proces pijnloos verloopt, maar games kunnen het proces wel interessanter en plezieriger maken.
Fortugno heeft daarnaast op 2 oktober 2015 een presentatie gegeven bij iMMovator. Zie de video hieronder.