What is INDIGO?
INDIGO is unique: It's a platform for developers, publishers, investors, press and other interested parties to connect, organized by Dutch Game Garden. Developers can present and pitch their new games to an audience of publishers, service parties and other game companies. Publishers and investors can scout new games and meet new business partners. Overall the event provides the right atmosphere to encourage business relationships and inspire future projects!
MeetToMatch, TALKS and DISCOVER are three tracks that take place during INDIGO in June 2020. Each of these tracks has a different focus and goal. Find your perfect business partner through MeetToMatch with dozens of established publishers and investors participating. Get inspired by industry experts and like-minded game entrepreneurs during our quality TALKS, and explore the newest games at DISCOVER!
DISCOVER offers impressive and rich experiences for attendees, ranging from brand new prototypes to completed games. There are games in all genres, including applied games (for healthcare, education, and enterprise). 
The History of INDIGO
INDIGO started in 2010 as a showcase for new Dutch games. From day one the event was put together through the efforts of Dutch Game Garden. Back in 2010, Dutch game developers could show off their games on arcade cabinets at one of DGG's old locations 'Neude' in Utrecht. The event had a variety of PC games, mobile games, board- and card games, including Proun by Joost van Dongen and Ibb and Obb by Sparpweed. The INDIGO showcase, being the first of its kind in the Netherlands, gave Dutch games and their developers more visibility to players, press, and the industry overall.
In the following years, INDIGO rapidly grew in size. It became the main event where new Dutch games often saw the light of day for the first time. Taking place in Utrecht's city hall in the years 2012 and 2013, the showcase later moved to Tivoli Vredenburg between 2014 and 2016. Smaller "roadshows" were organized at other events like Firstlook, DiGRA, Control Conference, Indievelopment, the Dutch Youtube Gathering, and Game in the City. In 2013, INDIGO spread its wings and travelled abroad for the first time, hosting international editions at Gamescom in Colonge and at the Dutch consulate during the Game Developers Conference in San Francisco.
In 2016, the annual showcase opened its door to international games for the first time, which contributed to the growing international charachter of INDIGO. The showcase started to attract more visitors from aborad, including representatives from companies like Nintendo, Valve, Playstation, Apple, Epic Games, Unity, and more. INDIGO slowly started to take on a more business-oriented vision and became an event where developers can not only show their games, but also explore new business partners.
The year 2017 marked the year where INDIGO took place at a somewhat unique locations, a former Dutch prison called De Lik, where developers exhibited their games in prison cells. Since 2018, INDIGO moved to Speys Jaarbeurs, where our 10th anniversary edition in 2019 was held. INDIGO 2020 will be the first online edition of the event due to the effects of the Corona pandemic.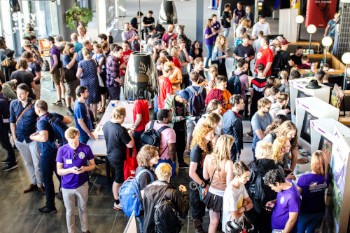 Subscribe to our newsletter!
Sign up to our newsletter to stay informed about INDIGO