JP van Seventer
Managing Director
JP left his mark on the very early phases of the Dutch games industry as a designer for console, PC and handheld games. Head of production at W! Games (now Vanguard Games) and professor at the HKU are just a few of his contributions to the field. JP started with the DGG as Development Director, where his experience and knowledge helped many starting companies grow. These days, he is the final boss that guides the strategic direction.
Christel van Grinsven
Operations Manager
Financial reports, budgets, risk analyses, you name it – Christel can do it.  With her ample experience with (semi-)governmental organizations that stimulate innovation and entrepreneurship, this number-lover is always ready to guide Dutch Game Garden safely through the turbulent ocean of multiannual management plans. This helps us to stay energetic, sharp and focused on our core target group: startups in the games industry.
Eline Muijres
Communications Manager
Eline is completely at home in the world of (indie) games, and can usually be found at every related event. Eline has a background in PR, marketing, and production, previously at independent game studio Game Oven, known for Bounden and Fingle. With her experiences of the inner workings of a small game studio, she aims to spread knowledge about game business topics to indie developers. Within DGG, Eline's activities include supporting and connecting people, managing the website and social media channels, editing, and dealing with the content side of DGG events.
Menno van Pelt-Deen
Incubation Manager
Building bridges, connecting people, and facilitating creative processes. That's Menno in a nutshell, and that's what he's doing as Incubation Manager at Dutch Game Garden. Menno works together with new start-ups and supports them in becoming independent and self-sustainable. Menno holds a PhD in Games and Motivation and has a background in fine arts and humanities. As an organizer of game jams, he brings students and developers together to develop games in swimming pools, national parks, and churches. Additionally, he is chairman of the Games [4Diversity] foundation and works at his own company Lapp to make games for parents.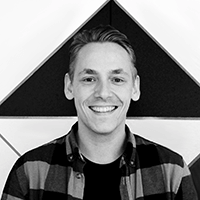 Richie de Wit
Business Developer
Richie specializes in marketing and business strategy in the games industry. He has a degree in Arts & Media Management at the Utrecht University of the Arts, where his thesis on branding was selected for the Entrepreneurship Award. At Dutch Game Garden, Richie focuses on business development, always looking to establish new partnerships and seize opportunities for both DGG and our game studios. Due to his positive, uplifting personality, he easily connects with people and is always up for a chat. His ultimate goal is to help game developers succeed by using his knowledge, expertise, and network.
Bart Roozen
Event Manager
Bart is the go to guy for anything technical or practical. He complements the team well with his software, hardware, and design expertise. Bart transitioned from an intern to current Event Manager. Bart was responsible for organizing the monthly DGG Network Lunch, as well as facilitating events such as INDIGO and the Holland Pavilion at Gamescom. With his humor and background in Communication, Multimedia & Design with a Game Design & Development major, he fits right in the games industry.
Sabina Dirks
Event Manager
With Sabina, the organization of any event is in capable hands. She has done marketing with Steamline Studios and was part of the organization of Casual Connect Europe and Got Game Conference. She also runs her own event management company: Eventina. All of her experience is well placed at Dutch Game Garden, where Sabina runs events such INDIGO, pitch trainings, and Summer Game Dev.
Looking for a job or internship?
Visit our jobs page for more information.