JP van Seventer
Managing Director
JP left his mark on the very early phases of the Dutch games industry as a designer for console, PC and handheld games. Head of production at W! Games which later grew into Vanguard Games, and is now known as Force Field, and professor at the HKU are just a few of his contributions to the field. JP started with the DGG as Development Director, where his experience and knowledge helped many starting companies grow. These days, he is the final boss that guides the strategic direction.
Christel van Grinsven
Operations Manager
Financial reports, budgets, risk analyses, you name it – Christel can do it.  With her ample experience with (semi-)governmental organizations that stimulate innovation and entrepreneurship, this number-lover is always ready to guide Dutch Game Garden safely through the turbulent ocean of multiannual management plans. This helps us to stay energetic, sharp and focused on our core target group: startups in the games industry.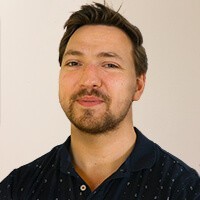 Tom Jongens
Communication Manager
Tom recently made the switch from IT to the games industry. While working as a Marketing Manager in the IT event branch, Tom was working on his own games and joined the Dutch Game Garden Incubation Program. His communication and business skillset was noticed by Dutch Game Garden and he was asked to join DGG as the Communication Manager. With his technical and corporate experience he brings new ways of communication and process optimization to Dutch Game Garden. Tom's activities involve managing the communication and branding of DGG and its activities.
Aryeh Loeb
Incubation Manager
Aryeh has been active in the industry for 17 years. In that time he has filled a variety of roles for a huge number of games. Aryeh started in journalism and retail, and went on to work in publishing (Mindscape) and development (Guerrilla Games, Gamious). As an Incubation Manager, he uses his experience and expertise in AAA studios and startups to help the incubation participants reach the next level.
Richie de Wit
Business Developer
Richie specializes in marketing and business strategy in the games industry. He has a degree in Arts & Media Management at the Utrecht University of the Arts, where his thesis on branding was selected for the Entrepreneurship Award. At Dutch Game Garden, Richie focuses on business development, always looking to establish new partnerships and seize opportunities for both DGG and our game studios. Due to his positive, uplifting personality, he easily connects with people and is always up for a chat. His ultimate goal is to help game developers succeed by using his knowledge, expertise, and network.