Grafisch ontwerp en CMD-stage
Start: September 2021
Dutch Game Garden zoekt vanaf september 2021 een CMD-stagiair. Je ondersteunt ons team met diverse werkzaamheden, zoals webdesign en het ontwerpen van flyers, banners, business cards, t-shirts en folders. Daarnaast bewerk je grafisch materiaal voor onze website en overige platformen. Hierbij hou je rekening met onze huisstijl en die van partners, en krijg je soms ook de ruimte om een nieuwe stijl te ontwikkelen. Wij zien graag jouw creativiteit!
Verder ondersteun je bij de praktische organisatie rondom onze evenementen, en ben je grotendeels verantwoordelijk voor onze maandelijkse netwerklunch. Je houdt contact met gamebedrijven en helpt bij de promotie van onze organisatie.
De duur en uren van de stage worden in overleg vastgesteld.
Functie-eisen
Bezig met opleiding op hbo of wo-niveau.
Goede beheersing van Nederlandse en Engelse taal in woord en geschrift.
Affiniteit met de gamesindustrie.
Goede beheersing van Office-programma's.
Je beheerst grafische programma's als Photoshop en inDesign.
Ervaring met CMS (WordPress), webdesign en webdevelopment is een pré.
Kennis van social media en marketing is een pré.
Aanpakker, je moet het niet erg vinden mee te helpen onze INDIGO-kasten te sjouwen.
Je bent beschikbaar voor minimaal 5 maanden, startdatum in overleg.
Je werkt zelfstandig, nauwkeurig en met oog voor detail. Je bent proactief, creatief, leergierig, oplossingsgericht en stressbestendig.
Een uitdagende, leerzame stage binnen een klein team van gedreven collega's op ons kantoor in Utrecht.
Een plek voor inhoudelijk interessant werk binnen de groeiende Nederlandse gamesector.
Een plek om je te ontplooien en je vakkennis te verbreden of te verdiepen.
Toegang tot aansprekende organisaties binnen de gamesector. Je netwerk zal een enorme boost krijgen!
Een passende stagevergoeding.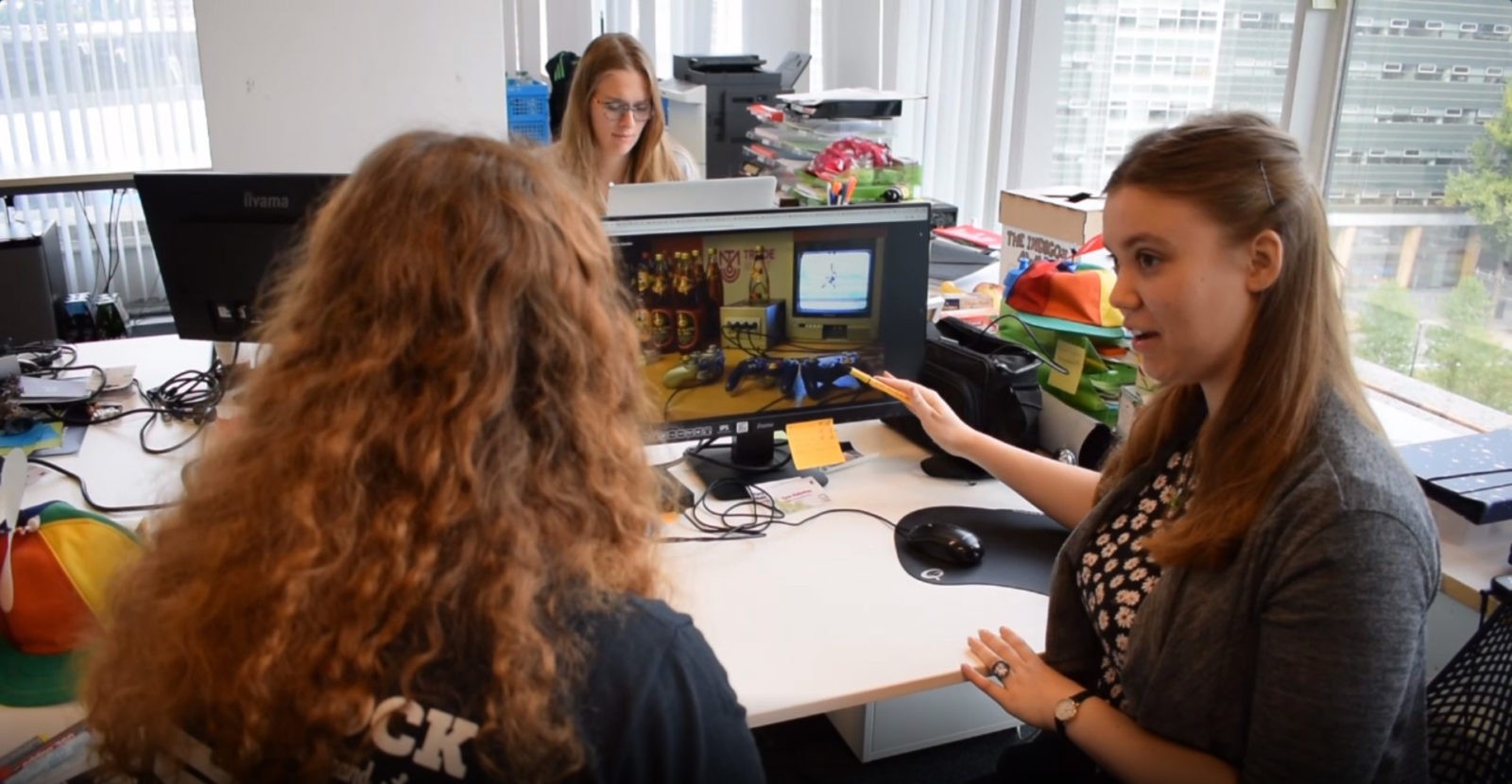 Bedrijfsprofiel
Dutch Game Garden is een game-incubator en business center. Dutch Game Garden's missie is het creëren van werkgelegenheid en economische groei door de gamesindustrie in Nederland te stimuleren. Naast evenementen, workshops, lezingen en matchmaking begeleidt Dutch Game Garden jonge gamebedrijven met game-ondernemerschap, groei en zichtbaarheid. Door middel van individuele coaching, advies en trainingen helpen we de gamestudio's zichzelf te vestigen, gezond te groeien en steeds betere games te ontwikkelen.
Heb jij al zin om aan de slag te gaan? Stuur dan je motivatiebrief + CV naar Tom Jongens, Manager Communications at Dutch Game Garden, via tom@dutchgamegarden.nl.
Internship Graphic Design/CMD
Start: September 2021
Dutch Game Garden is looking for someone to fill the intern position of Graphic Designer/CMD-intern from September 2021. You will support the DGG team in various tasks, ranging from webdesign to the designing of flyers, banners, business cards, t-shirts and folders. Besides, you are also responsible for creating and editing graphics for our website and other platforms, while respecting our company's and our partners'  corporate identity. We'd love to see some creativity!

Furthermore you are an integral part of our team and therefore also support us with the organisation of Dutch Game Garden's events. Our monthly Network Lunch is one of your main responsibilities, together with your fellow interns. You also keep in touch with game companies and help with the promotion of DGG and the services we provide.
The duration and further details of the internship can be discussed during the interview.
What we ask
You are currently enrolled in a university or college program (for Dutch students either hbo or wo)

Fluent in English, both spoken and written.

Affinity with the (dutch) games industry.

You are familiar with graphic editing programs such as Photoshop and inDesign.

You are familiar with Office-programs.

Experience with CMS (WordPress), webdesign and webdevelopment is a plus.

You know your way around social media and have some marketing knowledge.

You don't mind helping us with carrying around our INDIGO-cabinets.

You are available for a period of at least 5 months.

You are motivated, detail and solution oriented, stress resistant and of course excited to work in a fun small team.
Dutch Game Garden's profile
Dutch Game Garden is a game-incubator and business center. Dutch Game Garden's mission is to create economic growth and job opportunities through stimulation of the Dutch games industry. Besides events, workshops, lectures, and matchmaking Dutch Game Garden also guides upcoming game companies with game-entrepreneurship, growth, and visibility. We provide individual coaching, advice and training for game studios in order to help them built a foundation, enable their growth and stimulate them to constantly improve the games they develop. With Game Garden Agency we help the game studios in our program finding publishers and work-for-hire projects.
A challenging, educational internship within a small team of driven colleagues at our main office in Utrecht.

A place where you are part of the ever-developing dutch games industry

A place for professional growth and deepening your knowledge of the industry

Contact with organizations within the game sector. Your network will get a huge boost!

An appropriate internship compensation for all your hard work!
Are you excited to join our team and get to work? Send your motivation letter, portfolio, and CV to Tom Jongens, Manager Communications at Dutch Game Garden, at  tom@dutchgamegarden.nl.